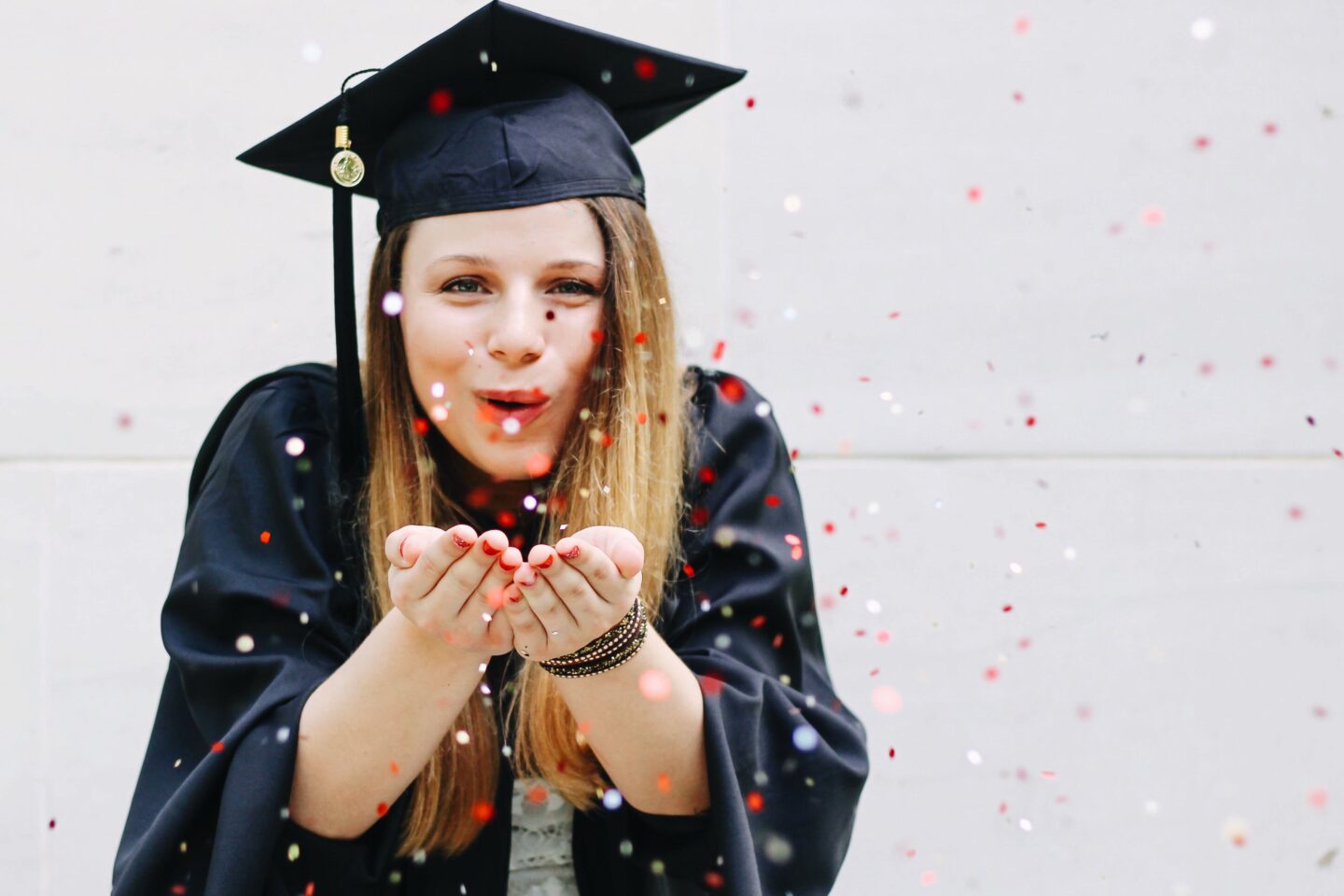 Inexpensive High School Graduation Gift Ideas That Don't Suck! These amazing graduation gifts are budget-friendly and practical, all in one.
Graduation is a huge milestone in someone's life, and if you know someone who is graduating, you might want to gift them with something special and memorable.
You might not have the biggest budget available for a graduation gift, but this does not mean that you cannot gift them something thoughtful and useful.
Below is a list of some inexpensive high school graduation gift ideas that any graduate will love!
Inexpensive High School Graduation Gift Ideas
Travel Wallet
Life after high school comes with so many possibilities, and the graduates might have some travel plans up ahead.
In order to travel safely and stay organized, they could make use of a travel wallet.
A travel wallet will hold their passport, cards, tickets, and all other documents.
A good travel wallet should be RFID blocking to keep their personal details and payment details safe. This is incredibly important!
Also, this wallet holds up to 9 credit cards and 6 passports. Lack of space will never be an issue!
It will be a gift that they use for quite a long time and one which they might never think to buy themselves.
Personalized Journal
College and the years following graduation are so fun, but incredibly trying too.
It is a time to find yourself and explore the world around you.
Gifting the graduate a personalized journal offers them a way to express themselves and detail their experiences and feelings.
Personalizing the journal just gives it an extra personal touch that adds to the thoughtfulness of the gift!
Single Cup Coffee Maker
Coffee might become the graduate's go-to morning beverage once they start college and make their way into the world.
A single cup coffee maker might be the ideal gift for them.
It offers up one perfect cup of coffee at a time, without taking up too much space on the kitchen counter.
It will be ideal for dorm rooms and can fit a travel mug, which makes it easy for them to get their coffee-on-the-go ready for the day.
College Cookbook
Learning to cook once you have graduated can be intimidating. Why not gift them this super helpful college cookbook!
It contains over 100 tasty meals that are made using affordable ingredients, which fit perfectly into the college lifestyle.
Cheap and tasty recipes are the perfect meals to learn to cook on your own after graduating, and this book is the perfect start.
Weekend Bag
Going away to college and staying over at friend's houses more would require a good, reliable weekend bag.
A weekend bag will be so handy for a graduate, and they will definitely make good use out of it. It might not be the most glamorous gift, but it is one that they will definitely make use of in the years to come.
Make sure that it is a reliable bag so that it will last many nights and weekends away without much strain.
Compass Necklace
A compass necklace is a beautiful reminder that the world is at the graduate's feet and that they have so much out there to explore.
It is also a reminder that they should remember their roots, and keep in mind where they come from.
This delicate rose gold necklace holds a small compass symbol, and will be a very treasured gift!
Planner Notepads
College and life after graduation can become quite busy, and to keep track of their life and everything they need to remember, a planner notepad makes for a great gift.
This notepad fits onto a desk and has columns to plan each day of the week. There are holders for a pen, sticky tabs, and paper clips. It is the perfect organizational tool and will be well used in the year after graduation.
Fast Food Gift Card
Fast food is a staple in college, but not all college students have the budget to accommodate for fast food cravings.
To help them out, you could gift them some fast food gift cards. This gives them the opportunity to treat themselves to some fast food every now and then, without worrying about spending too much money.
You could look at getting them a few small vouchers from different fast food shops, or one big voucher from their favorite fast food joint.
Graduation Charm Bracelet
Available on Etsy
Graduation Charm Bracelet
• one graduation charmed bangle
• one care instructions
• one polishing clothes
• one bags for storing bracelets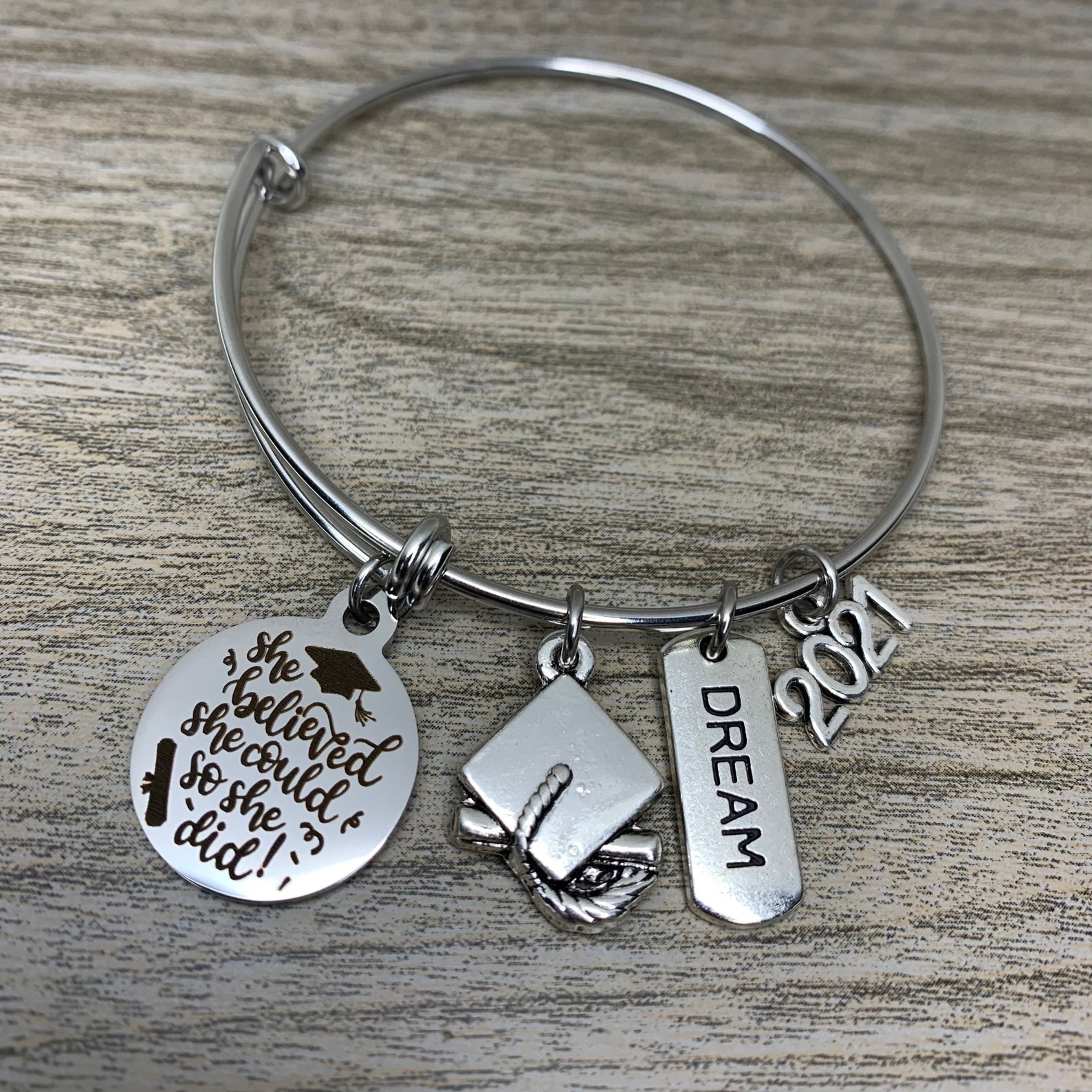 A graduation charm bracelet is a very meaningful gift, but one that does not have to cost a fortune. There are some amazing graduation charms that you can find, such as a graduation cap, the year of graduation, and some cute quotes.
They do not even have to wear the graduation charm bracelet every day, they could simply keep it as a reminder of the special milestone, and even add to it with new charms as they experience new things in the years to come.
You could either buy them the whole bracelet or a simple charm to add to a bracelet they already have.
Laptop Backpack
A laptop backpack will be absolutely essential for a new graduate.
Whether they are attending college or are taking a gap year, a backpack is a must-have.
One which has a dedicated compartment for a laptop is a must, as it will protect their device while they travel.
Look for a backpack that also has some other compartments, which can hold other items such as wallets, keys, and more.
This really makes life on the go much easier, whether it is at college or out traveling!
Sunrise Alarm Clock
Waking up early and on time is never easy, so help the graduate by gifting them a sunrise alarm clock!
This alarm clock is built to feature different daylight colors, which makes waking up easy. It also features different natural sounds, for a gentle waking.
They will never be late for a class or a meeting!
Hometown Candle
If the graduate is traveling to go stay away at college, a hometown candle makes for a great gift.
The candle will carry a signature scent of the town and will give them something to remember home by when they are feeling homesick and far from those that they love.
Check these graduation posts next:
How To Decorate Graduation Cap Without Ruining It (8 Simple Ways!)
10 Exciting Virtual Graduation Ceremony Ideas To Try In 2021