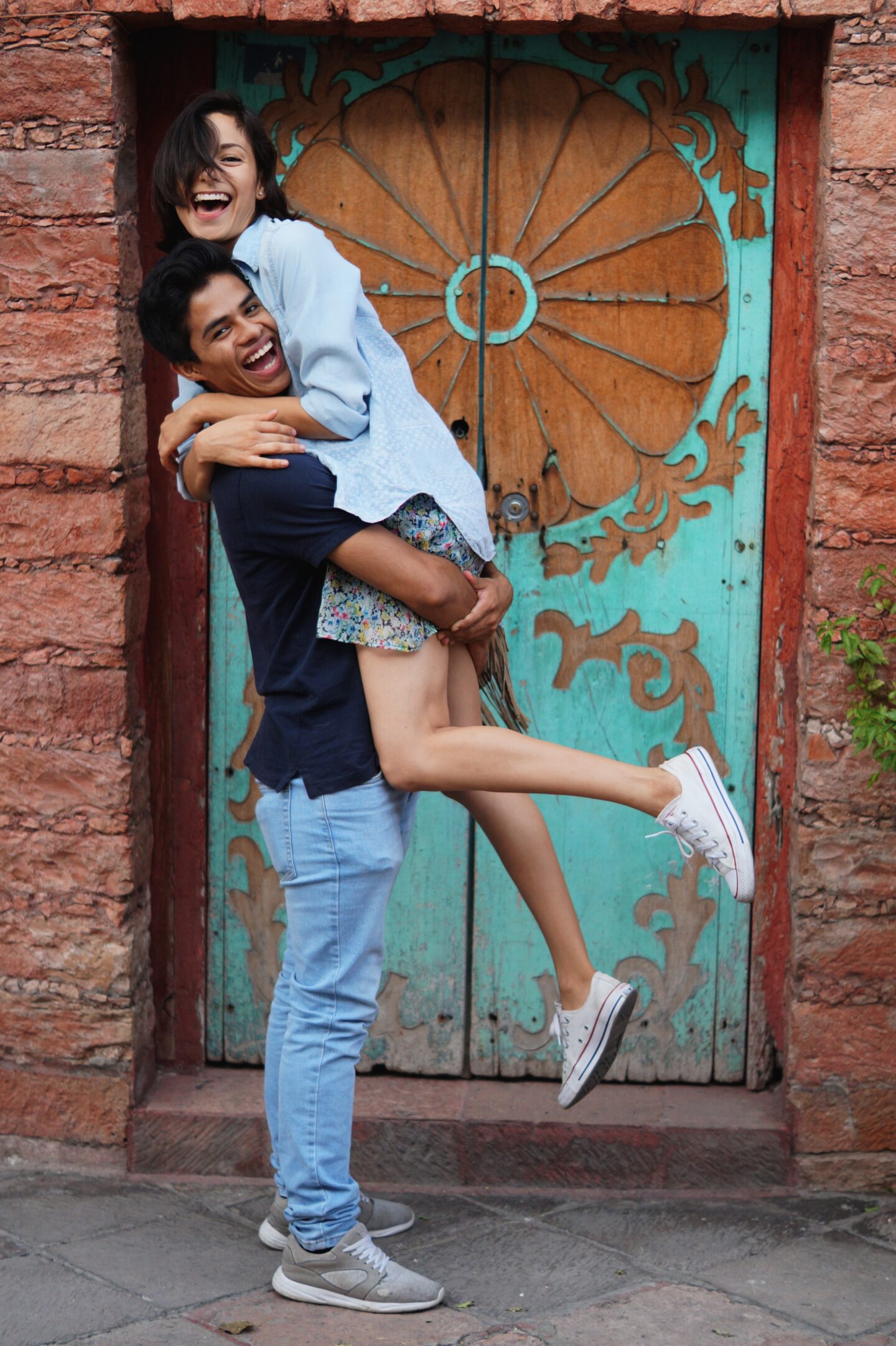 Looking for long-distance relationship gift ideas? We've rounded up some of the cutest, quirkiest, and most loving gifts that he will LOVE…
A long distance relationship is never easy. It takes trust and commitment, and a whole lot of love. 
There can be some really tough days away from the one you love, so being able to give him an amazing long distance gift is a great way to remind him how much you care.
While there are so many ways to stay in touch nowadays, these gifts will be more than appreciated, and they really help to make the distance feel smaller
Long Distance Relationship Gift ideas
It is a comforting and meaningful piece to give your partner, and it fits easily into most décor schemes as well.

Personalize the cushion to show the hearts in the right location and you will have your own long distance love story on a pillowcase!
Letters To Open When is a novelty gift set of personalized letters that can be written beforehand, before being given to your partner.
There are different labeled letters inside such as "open when you are lonely", or similar titles.
You can write appropriate, loving letters inside each envelope and send the whole pack to your partner. 

They will then read the letters one by one depending on when they need a bit of a pick-me-up.
Add comfort to both of your homes with the Long Distance Sync Lamps.

The beautiful lamps are an amazing way to stay connected to each other, no matter the distance.

The lamps remain connected after set up. With a single touch, the lamp will light up, and switch on the connected lamp to the same color. 

That way, he knows you are thinking about him when his lamp lights up, and he can let you know the same.
It can be positioned at many different angles, and the anti-slip base will keep it firmly in place throughout your whole conversation.
He doesn't have to worry about his battery dying either, as the phone stand fits in all different phone charging ports, so you can talk for hours on end!
If you are wanting to go the very sentimental route, then you cannot go wrong with a Personalized Love Book.
There are so many different customizations you can make with a love book, anything from it showcasing your love story, or writing 100 reasons why you love them.
These books can be kept forever, and are a lovely reminder that distance isn't so bad when someone means so much.

He can also have a read through the book whenever the distance gets him down.
The Thule GoPack Duffel is an incredible travel companion, and has all the pockets and zips needed to keep items safe and protected.

The shoulder strap and padded grip handles allow for comfortable carrying through his journey to visit you!
When not in use, the duffel bag folds flat and can be packed away easily!
On the back of the mug it reads "Still Having Coffee Together". 

The mugs are a great way to feel connected, even when doing mundane tasks such as having a warm cup of coffee in the morning.
It can be hard staying connected over a long distance relationship, and you often need a little push to remember why it is all worth the effort.

The Our Moments Couples set contains 100 thought provoking conversation starters that are great for reconnecting in a relationship, and it is fun to play as well.
You can pull out the cards during your next FaceTime session, and use them to remember why you are together, and why you love each other.
Sleeping alone is not always fun, and to make sure he feels comfortable and secure at night, you should buy him a large hugging pillow.
The body pillow is 20 inches by 54 inches, which allows it to fit the natural contours of the body, and be the perfect size for cuddling.
The ball fiber filling is soft, but still firm for the right support, and the 100% cotton outer shell is super soft and durable, lasting through all the nights apart.
The Together Spoon is both a novelty and a practical gift to give the one you love.
It is a little reminder in the kitchen that you are both waiting for the day when you can have coffee together in the morning, and that you are thinking of him throughout the day.
The Me Without You Lovebook is full of adorable illustrations and rhymes that perfectly sum up a beautiful relationship. The cute book is a wonderful addition to another gift, or can be given on its own.
It is the perfect book to read through when he needs a little cheering up!
Homesick Scented Candles are amazing!
There is a unique candle for each state, with a scent that is particular to that place.
It is such an awesome gift for him, especially if he is working or studying away from home.
Not only are the candles incredibly soothing when he needs to destress a bit, but the scents will remind him of where you are.
You can then both wear the bracelets with the other persons coordinates to feel more connected to each other at all times.
Time is everything in a long distance relationship, how long you have been apart, and how long you have until you are back together again.
To symbolize this significance of time, a watch is an incredible gift. You cannot go wrong with a classic Fossil Townsman watch.
It is an ideal gift, as he will absolutely love the watch, and it will be a reminder of you and your relationship.
Long distance relationships often mean different time zones, and these can be so difficult to keep up with.
A dual time zone pocketwatch necklace is both practical, helping him keep track of what time it is on your side of the world, and sentimental to have a piece of you with him at all times. It can either be used as a pocket watch, or kept on the chain and worn around the neck.
It has a beautiful antique look, and both individual clocks can be set to their own times. The 30-inch adjustable chain is the perfect size, and can be shortened if needed.
This makes it an ideal bracelet for couples who are apart. It calms, destresses, and will help you feel more connected and at ease through your distance.
The bracelets are also really beautiful, but are not overwhelming, so they can be worn every day, and he can wear them to work or to studies.
Unfortunately, being long distance means that you probably won't be able to watch movies together so often, so to make up for this, you should buy him the ultimate popcorn seasoning kit.

This way, he can make some amazing popcorn to enjoy at home, and you can both put on the same movie and enjoy it together.
The Kernel Popcorn Seasoning set has all the flavors anyone could want, such as caramel corn, ranch, nacho cheddar and cheesy jalapeno.
You will be able watch many movies together, comfortable in the fact that you know he is enjoying some delicious popcorn during the movie!
The Best Long Distance Gifts For Him
There are so many great long distance gifts to choose from for him, whether they be sentimental or practical. 
Give him something special to remind him of you when are apart, and to help him feel at ease during the more difficult days
What are you favorite long distance care package ideas for your boyfriend? 
Let us know in the comments below!
Don't forget to pin, like, and share me!