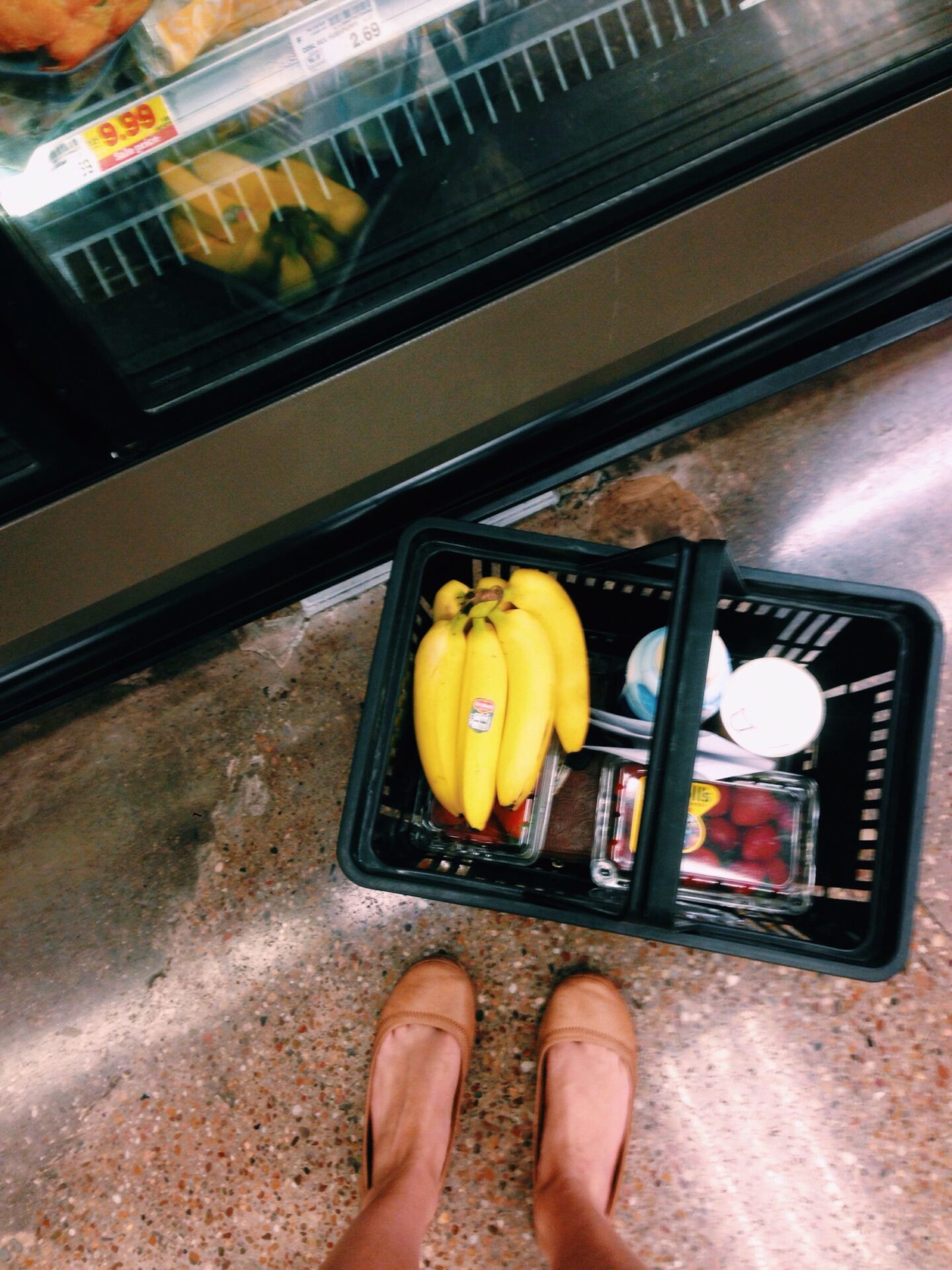 Don't know what to add to your college grocery list? Eating out a lot due to lack of planning? This is the shopping list that helped me avoid the Freshman 15 and stick to my tight budget…..

In college, you have so many different things going on, it can be difficult to remind yourself to eat healthily, and even more so, create a healthy grocery list.
It really doesn't have to be so difficult to eat healthy in college, and doing a grocery list can really help you stick to a healthy diet. It allows you to keep all the ingredients you would need for healthy meals, as well as stop you from popping out to the store for quick-fix unhealthy snacks and meals.
Without a grocery list, you will end up buying things you don't need, going way over your budget, buying stuff you already have at home, and buying mismatched items that don't work well together to form a meal.
Eating healthy in college is so important to ensure you get all the nutrients, vitamins and energy you need to keep up with your busy lifestyle.
To make it a little easier on you, here is an example of a healthy grocery list to use when in college, which is also budget-friendly.
Breaking down the shopping list into different meals for the day helps you to buy exactly what you need, and to plan your meals better.
College Grocery List For Healthy Eating
Breakfast is such an important meal of the day, but in college, you might not have the time to whip up a big breakfast each day.

The below food items will help you get as healthy a breakfast as possible, without spending too much time cooking.
Yogurt bowls are easy to throw together and are incredibly tasty as well. For a yogurt bowl, you will need:
Natural yogurt

Fruit

Honey

Granola

Chia Seeds
A protein shake can be whipped up easily in the blender and can be taken with you to your lectures. You will need:
Milk

Protein Powder

Fruit for flavor

Oats
Instant oatmeal can be made in the microwave, and you can add in whichever flavors you want.
Instant oatmeal

Honey

Fruits to flavor
Muffins can be taken with you on your way to class if needed and can keep you going until lunchtime.

They are quick to grab when you're running out the door. Just make sure you find one that is low in sugar and don't make them your staple breakfast. More of an occasional treat or during rushed mornings
Banana and Peanut Butter Toast
This is sweet, delicious and healthy. It is a quick and easy breakfast that is tasty and filling.
If you are a fan of savory breakfasts, a breakfast burrito is a good option. It can be cooked easily and packed away for a late breakfast between classes if needed. You will need:
If you want to try all these breakfasts over a few days, here is a complete breakfast shopping list. You can drop any ingredients for the meals you don't want to try.
Natural yogurt

Fruit

Granola

Milk

Muffins

Bread

Banana

Eggs

Cheese

Bacon
Lunch is possibly the hardest meal to keep up with while you're in college, as lunchtime is often spent in the library or running to your next lecture.

Having a lunch that can be packed before leaving for college is so important to ensure you do not skip this meal.
Salads can be premade in the morning and kept in your lunch bag for lunchtime. You can pretty much make the salad to your taste, but some ideas include:
Baby spinach

Cucumber

Tomato

Feta

Dressing
Making a mini snack platter for lunch is a good way to use up other ingredients you might have at home. Use a divided lunch box to hold the mini snack platter. Some ingredients to use are:
Pita chips

Hard-boiled eggs

Carrots

Celery

Tomatoes

Hummus

Ham
For the colder months, soup is a great lunch. It is a good idea to purchase a thermal flask to keep the soup warm throughout the day, and you can either drink it straight from the flask or bring along a bowl and spoon to eat it. Some soup ideas:
Instant tomato soup

Instant butternut soup

Instant chicken noodle soup
You can also choose to make soup fresh at home, and for fresh butternut soup you could use:
The traditional lunchtime meal, sandwiches are easy to prepare and can be carried around easily in a lunch box. For a healthy sandwich you should include:
Whole wheat bread

Lettuce

Tomato
Use the below list to shop for ingredients for all of the above meals. Remove any ingredients that you don't need and any ingredients that are on the breakfast list.
Baby spinach

Cucumber

Tomato

Feta

Dressing

Hard-boiled eggs

Carrots

Celery

Hummus

Ham

Fresh butternut

Cream

Instant soup

Whole wheat bread

Ham
Dinner often becomes a very simple meal in college. You are either busy with homework, social events or group projects.

Convenience is so important when it comes to dinner time, but still ensuring you save yourself from eating out often and providing yourself with some healthy food.
This might not seem like the tastiest meal, but you can spice it up a bit to make it flavorful and healthy.
Chicken breasts

Chicken Spice

Fresh vegetables
Fried rice is so easy to make at home, and can be carried over for two meals. You can choose whatever protein you want to have in the fried rice, but frozen meatballs are a great choice.
Frozen meatballs

Brown rice

Fresh vegetables

Teriyaki sauce
While salad might not be your favorite meal, you can use some of the ingredients from lunchtime to whip up a salad. Make it more interesting by adding in different ingredients.
Tuna

Baby spinach

Dressing

Cucumber

Tomato

Boiled egg

Croutons
You can pick up a rotisserie chicken to shred to use in chicken pasta, and this can be added to your salad or sandwich for lunch the next day. You can pair the pasta with your favorite pasta sauce.
Rotisserie chicken

Pasta

Pasta sauce

Parmesan cheese
Once again, remove any items from the below list that you will not want to eat, and do not double up on items that you would have bought for breakfast or lunchtime meals.
Chicken breasts

Chicken spice

Fresh vegetables

Frozen meatballs

Brown rice

Baby spinach

Cucumber

Tomato

Boiled egg

Croutons

Rotisserie chicken

Pasta sauce

Parmesan cheese
You can't get through hours of studying or running between lectures without some snacks.

Snacks really don't have to be unhealthy, so leave out the chocolate bars and sweets and instead opt for some of the healthier snacks available.
Dried fruit really goes a long way if you spread your snacking out. Dried mango, banana, and apples are all really tasty.
They are quite high in sugar, so be sure to eat them in moderation.
Pretzels and Peanut Butter
Keep a bag of pretzels on hand and a little Tupperware of peanut butter to enjoy between classes.

The saltiness of the pretzels work really well with the creamy sweetness of the peanut butter.
Instead of buying trail mix from the store, you can make your own at home.

This can include dark chocolate bits, pumpkin seeds, granola, and pretzel bites.
Popcorn can be healthy if you do not cook it up in loads of oil and butter and stay light-handed with the spices.

Pop some popcorn in the microwave and add a dash of salt. You can keep one batch to enjoy over a few days.
Date balls are full of good nutrients and protein and provide energy for throughout the day. Simply get some almonds, dates and shredded coconut to blend together and shape into little date balls.
Adjust the snack shopping list to the snacks you want to buy, and be sure to remove any ingredients you would have planned to buy for breakfast, lunch or dinner.
Pretzels

Peanut butter

Pumpkin seeds

Popcorn kernels

Almonds
Creating Your Own Grocery List
If you are specific about how you eat, it can be really easy to come up with your own grocery list to allow for healthy eating during college.
The first step is to break your meals up per day and write down each ingredient you would need for each meal. Remove all duplicate ingredients.
It is also worthwhile to look for meals that include the same ingredients, so you can save a little bit of money by using all the ingredients you have and not letting any go to waste. Meal prepping is a game-changer for you health and wallet as well.
Packing breakfasts and lunches (I use these meal prep containers) is the best way to ensure you actually eat during the day and stay away from vending machines which pretty much only provide you with unhealthy meals and suck your budget dry.
Plan your meals for the week, write a list, try to stick to a budget and get shopping!
Free Grocery List Printables
Don't forget to like, pin, and share me!