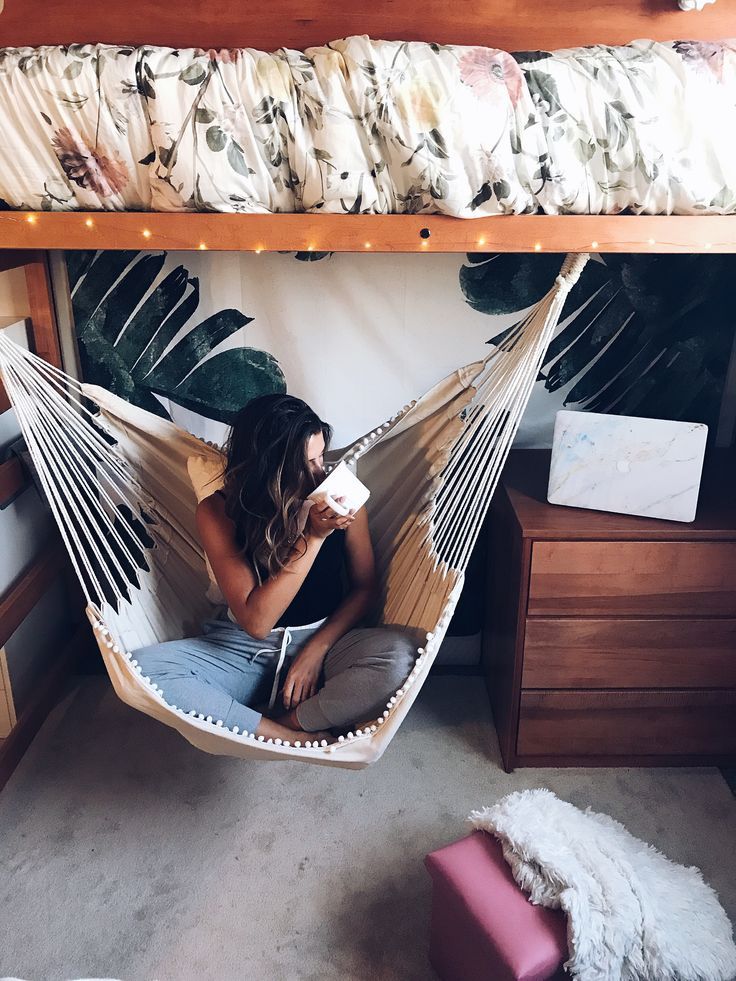 Who wouldn't want a hammock in their dorm room?! Somewhere to lay back, read a book, or listen to music, after a heavy day of classes, a big exam, or a draining study session. There is no reason you can't make your dorm room your own – it is going to be your home for a few years!
Each dorm and college will have its own rules as to what you can and can't do to the room or the structure of the walls, so to help you find the best way to hang a hammock in your dorm room, here are a few different ways to do so!
But regardless of how strict your RA is, I'm sure you'll find one easy way to hang your hammock in your dorm here.
How To Hang A Hammock In Your College Dorm
Install Hammock Hardware
Installing hammock hardware is one of the most popular ways to install a hammock indoors. You will need to check that you are allowed to do this inside your dorm room first.
Hanging the hammock from the wall or the ceiling does take up the least amount of space compared to stands. However, it does take some effort, and a few tools, to hang a hammock this way.
It can be quite difficult to install a hammock this way, and you might need some help doing so.
Often, you will use a stud finder to find two strong wall studs that are able to hold your whole body weight. Remember to never attempt to hang a hammock from drywall!
Once you have found structurally sound and strong studs, you can screw or drill hooks into the wall and secure the hardware. You could do this yourself if you are confident in your skills, but it is better to have professional guidance (or do what I did and call your dad).
When hanging a hammock this way, you need to be careful to do as little structural change as possible. The hooks and screws you place in the wall should not cause any damage to the structure and should be easy to cover up when you take the hammock down.
You could also try and hang a hammock or hanging chair from the ceiling, but this is more difficult and you will need to find a beam that can support your weight, and which will not be damaged by the weight and strain.
Another way is using these straps meant for tree branches. If you have bunk beds in your dorm, you can have the hammock in between both bunks hanging on from the rails or underneath your bed if you have space.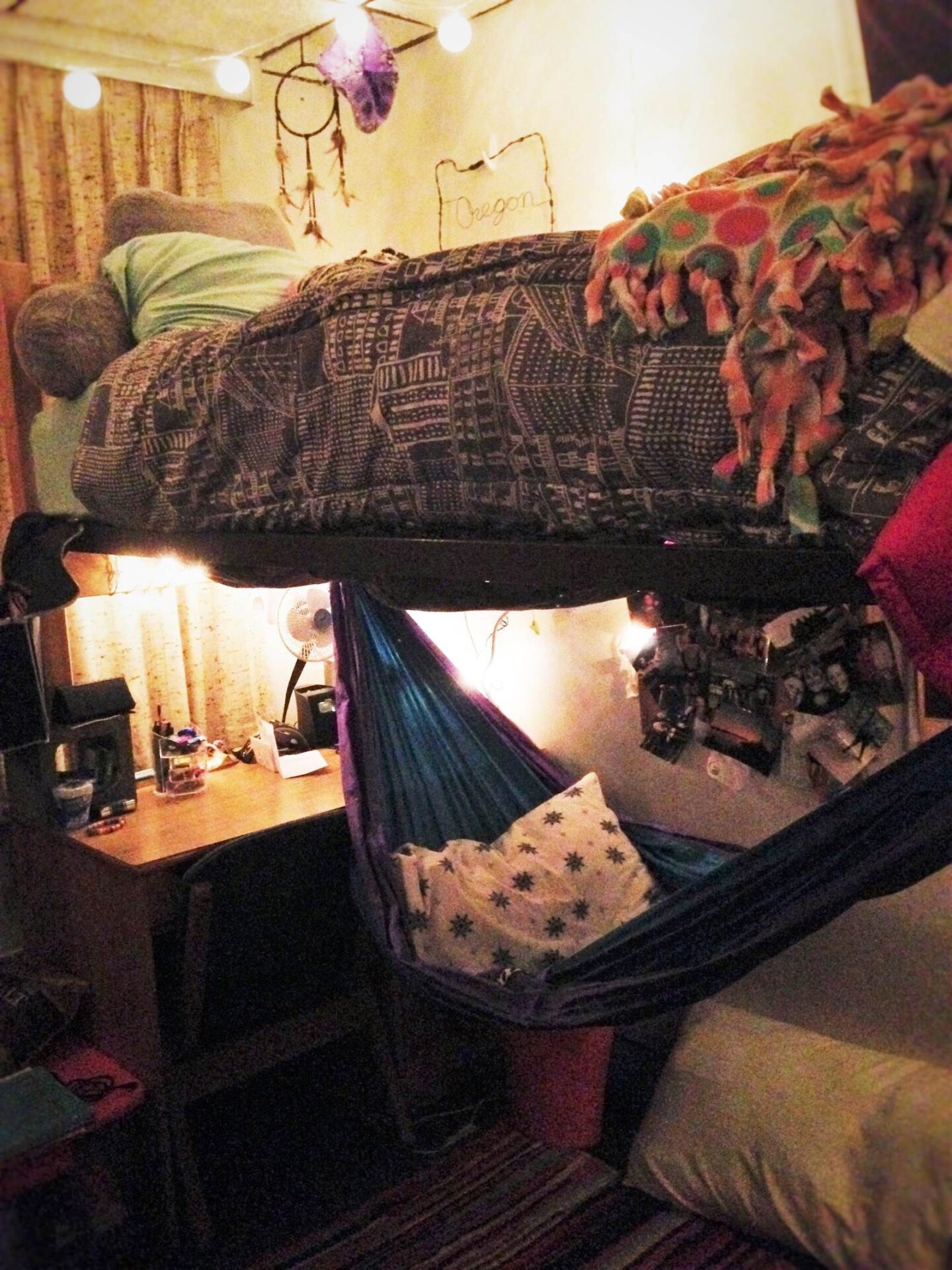 This is a great option as you don't have to drill holes or change the dorm in any way.
And you can have your hammock up (and taken down) in minutes! So it doesn't have to take up limited dorm space if you're not using it.
Find Existing Anchor Points
By finding existing anchor points, you do not have to do any structural changes to the walls of your dorm room, so there is little damage done.
Just like you would hang a hammock between trees outside, you could look for two strong anchor points in the dorm room. This could be hanging the hammock from two studs, a beam, or a strong point in the dorm room.
Exposed ceiling beams and pillars are ideal, but these are not too common in dorm rooms. If you are lucky enough to have a small deck or patio – you could try to hang it there as well.
This is not the most ideal method for dorm rooms, as there are not too many strong points to be found inside, so you will more than likely have to install your own anchor points or use a hammock stand to offer more support.
Hammock Stand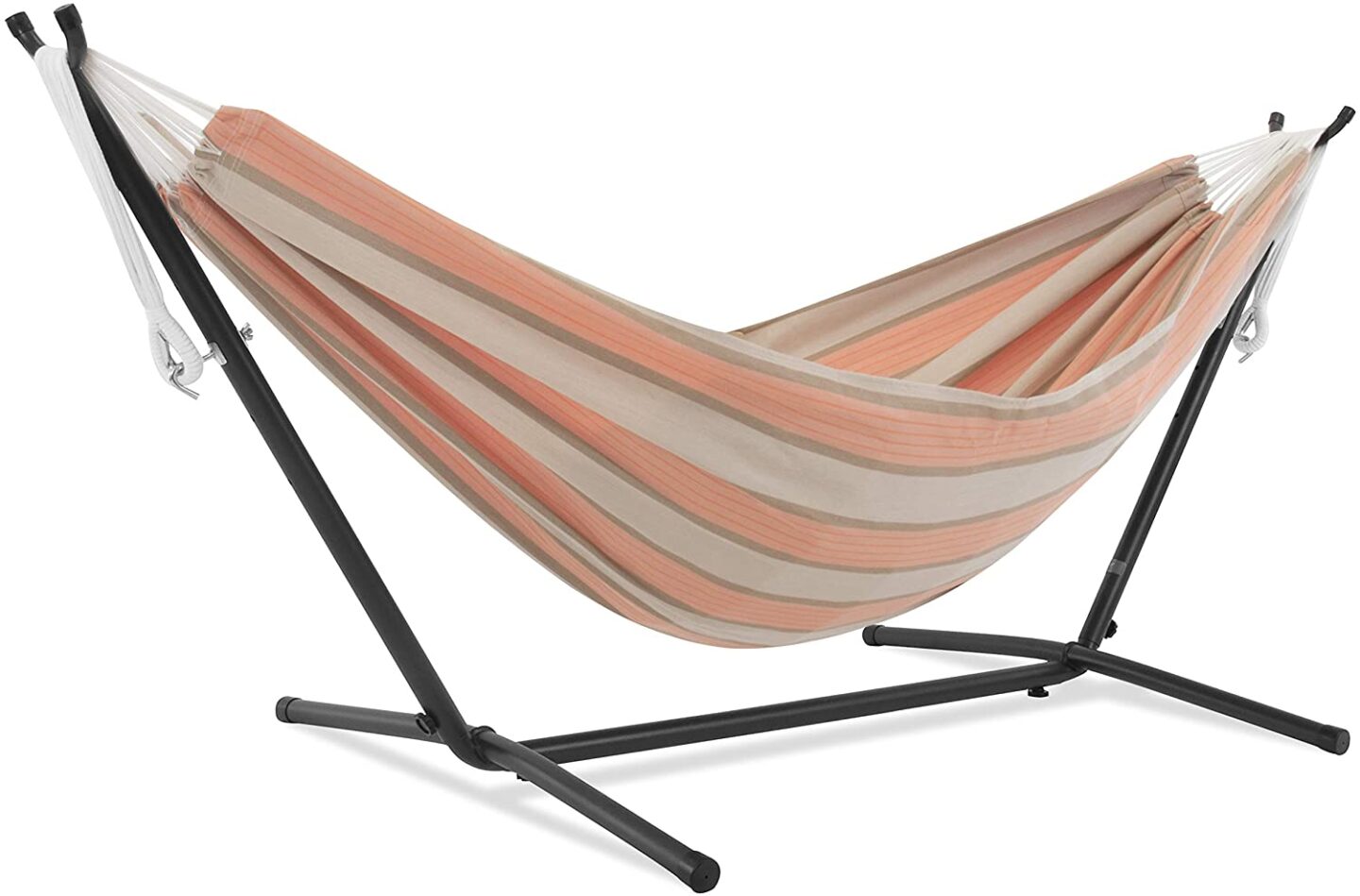 Possibly the best option to hang a hammock in your dorm room would be to use a hammock stand.
You will not need to drill into walls or rely on an anchor point to support your body weight, and not worry that the anchor point might end up breaking and causing significant damage!
When purchasing a hammock, you could either buy one which comes with a hammock stand or look for a hammock stand that fits the hammock you already have.
There are some great portable hammock stands that you can buy online, which take up very little space, and are light enough to move around the dorm room.
If you are quite handy and love some DIY, you could always try to make your own hammock stand with strong wood.
You will obviously just need to make sure that the stand is strong enough to support your weight, as you don't want it snapping and you landing on the ground mid-nap!
Opt For Hanging Chairs In Lieu Of A Hammock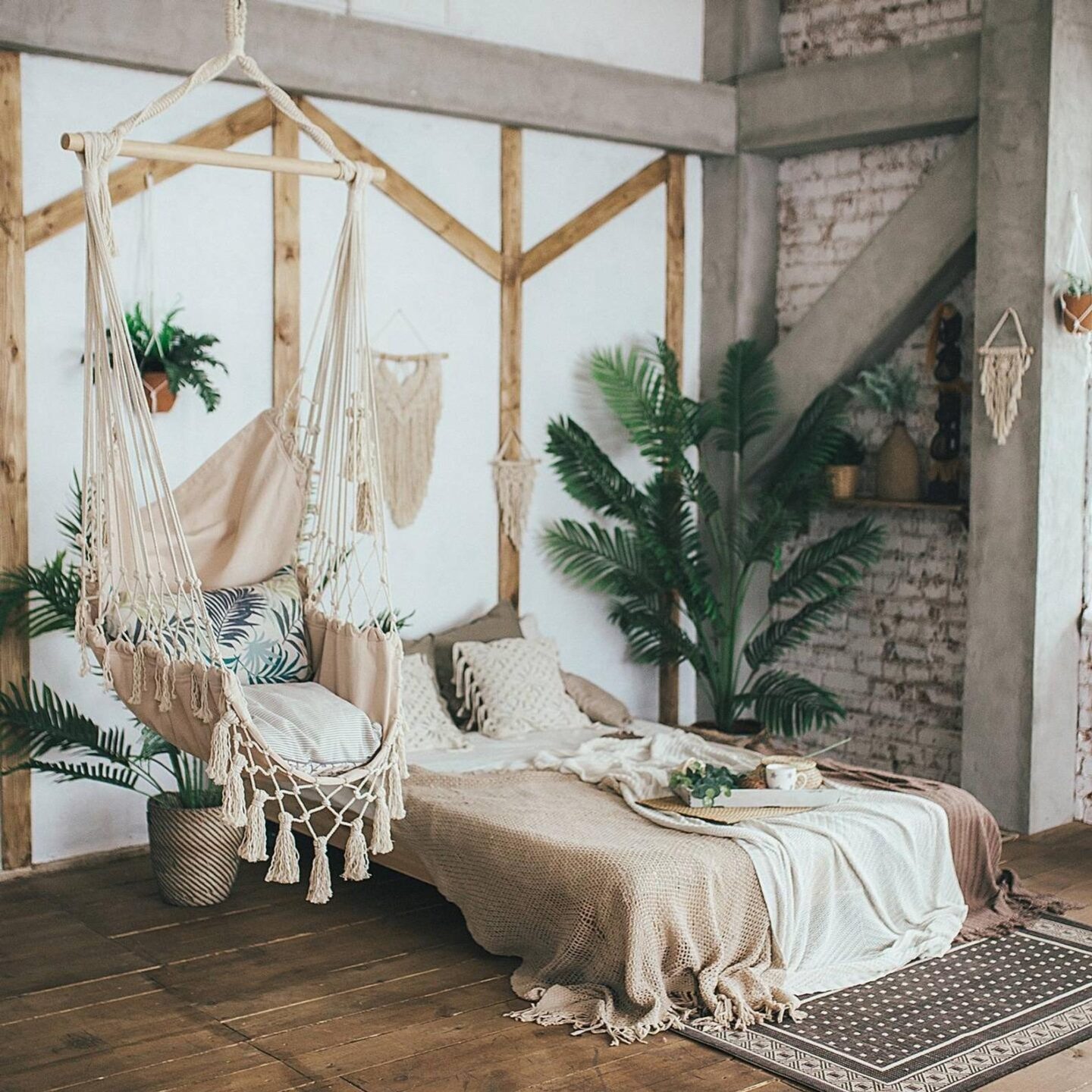 If you are nervous to install a hammock into your dorm room by drilling into the walls or finding two anchor points, you could always look at purchasing a hanging chair.
Hanging chairs are similar to hammocks, except they do not stretch out as far and take up less space.
Just like a hammock, you can place these underneath your bunk beds as well!
You can also find a lot of hanging chairs that come with their own stand, which you could position away into a corner in your room.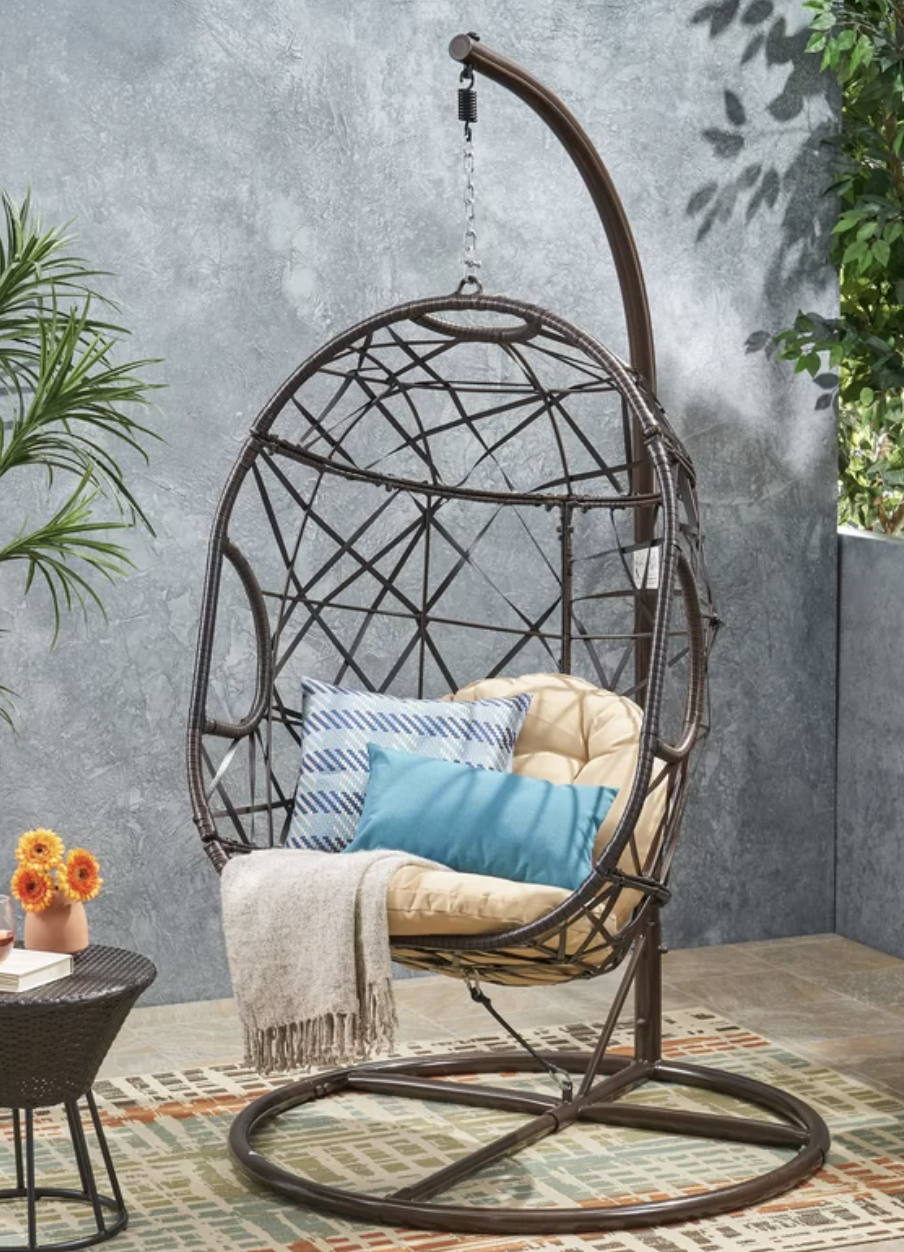 Hanging chairs are great, because you can sit up properly in them and do some work or reading, and they can double up as your sofa to watch some TV!
Unfortunately, hanging chairs are typically expensive but since they're meant for outdoor use, they're sturdy and resilient. Once you leave college you'll be able to put it in your patio or balcony.
One thing to check before purchasing a hanging chair is that you can get it up to your dorm room and that it will fit through the door!
Do You Need Hammock Straps?
You might be able to get away with using chains or strong rope to hold up your hammock, but it is definitely best to use dedicated hammock straps.
These hammock straps connect the hammock to the hardware, and give the right amount of tension to prevent sagging, or prevent the hammock from being pulled too tight.
With hammock straps, you can play around to achieve the right tension, and when you set it at the right tension, you will not have to worry about the straps stretching.
What Is The Best Choice For A Dorm Room?
The best choice to hang a hammock in a dorm room is to use a hammock stand or the straps between bunk beds or underneath.
Most dorms are very strict about drilling or doing damage to walls, and neither of these options call for any drilling or alterations to be done.
You might be lucky and find a folding, portable hammock stand to fit into your dorm room, which won't take up too much space, and which can be set up and packed away easily for when you need more room, or when it comes time to move!
Don't forget to pin, like, and save me for later!