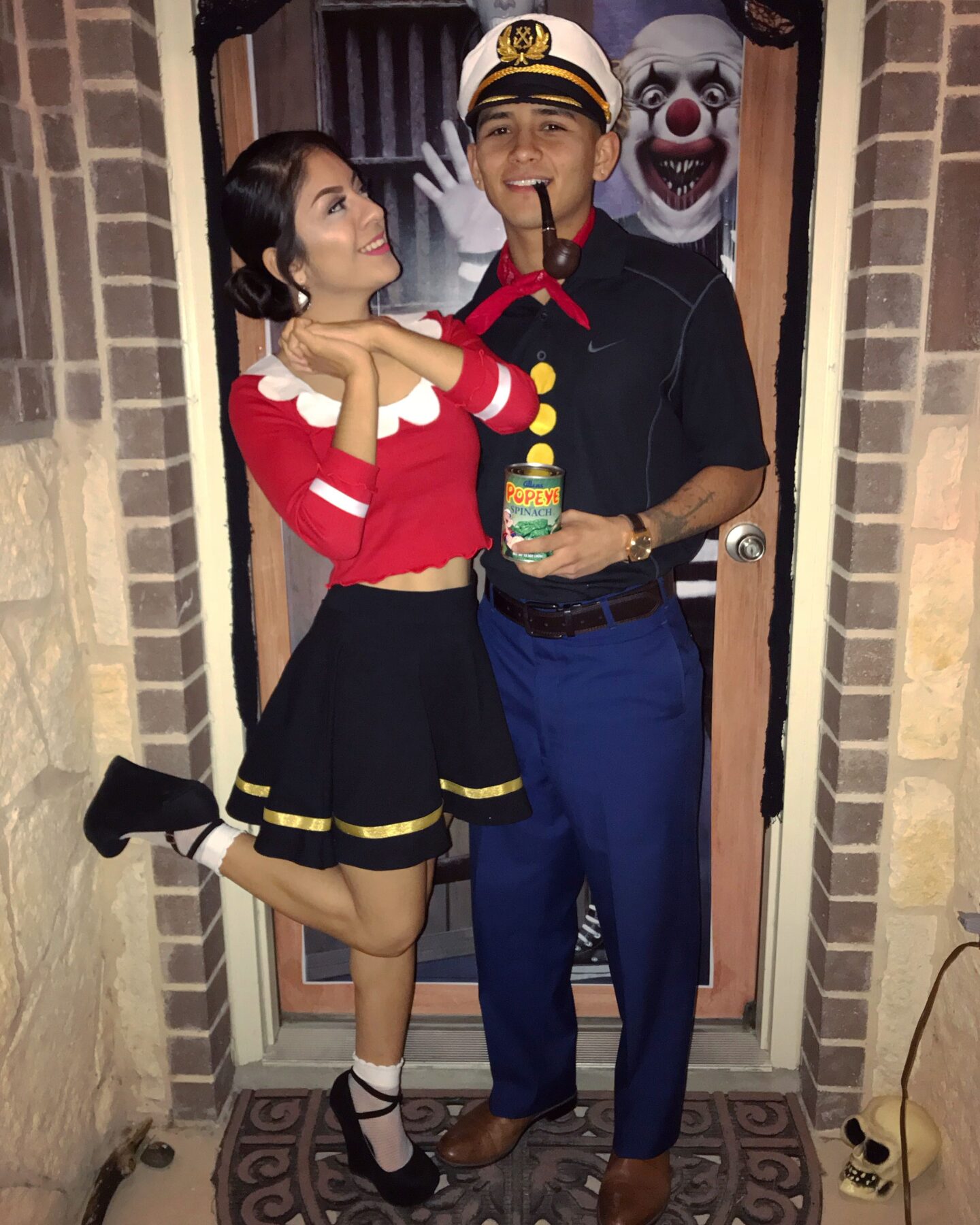 College is just around the corner! I decided to round up the absolute BEST College Halloween Costumes for Guys.
Some guys get 'lazy' on Halloween while girls halloween costumes go all out, but that's a shame. Men have some amazing costume ideas that they can't pass up!
This year, steal the show and show up in one of these amazing halloween costume ideas for guys.
All eyes will be on you this year. No slutty-nurse outfit necessary.
Halloween Costume Ideas For Guys
Popeye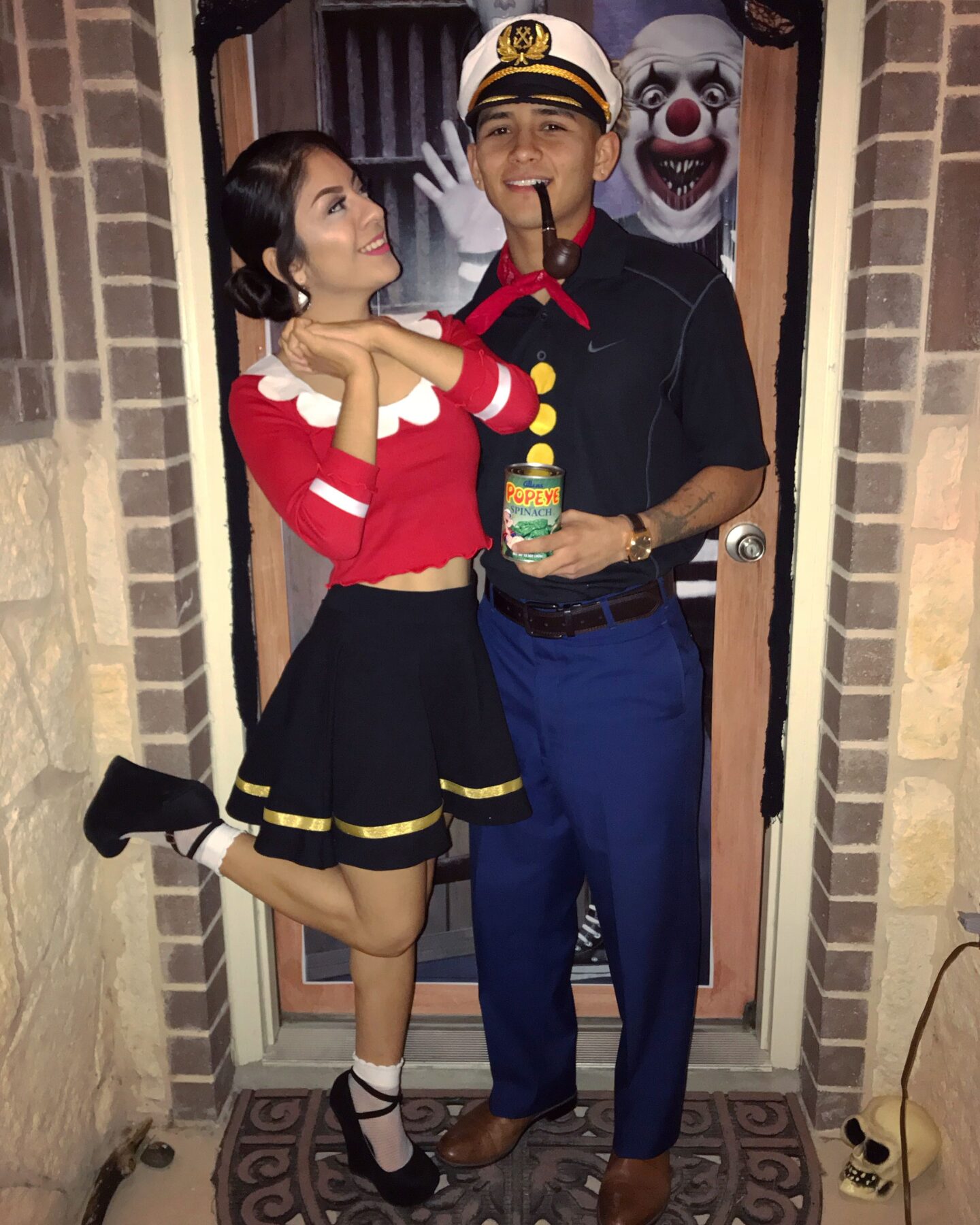 Popeye is a classic!
And you don't need an Olive Oyl on your arm to make this costume come to life.
But if you do, you can recreate an amazing couple halloween costume.
Recreate The Look
Alan from The Hangover
This is HILARIOUS!
Chances are, you don't have a baby to take to a college party (nor should you if you do!)
So just pick up one of your nieces dolls and put her in the carrier.
And you're set with the most hilarious halloween costume around.
Tiger King
Recreate The Look
Carton of Milk
I don't know why I find this costume so hilarious!
I promise you, you'll stand out. Everyone will notice the carton of milk at the party.
So, if you don't like the limelight, maybe steer clear of this one.
Mr. Bean
This costume would be classic yet funny. You can impress the onlookers with this unique costume and I bet no one would have thought about this.
Mr. Bean has been a huge part of our childhood and recreating his look on Halloween would be the easiest as well as quirky.
Don't forget the main element of this costume that is Mr. Bean's best friend: THE TEDDY BEAR.
For the makeover, the black mole and thick semi-circle brows will bring the character to life.
Damon Salvatore from The Vampire Diaries
This one is a personal favorite and probably the HOTTEST look for a guy. Every girl's dream boy is Damon Salvatore.
The classic black shirt, black leather jacket, black jeans, and black boots will take away the hearts of every girl at the Halloween party and you might go home with Elena. 😉
To make it obvious, use blood on your mouth and fake fangs.
If your girl likes Stefen Salvatore more than Damon then you can also opt for that and she can dress up like Elena Gilbert. I bet you both will win the best and hottest couple's costume.
Baby Man

Break a laugh at the Halloween party by dressing up as an adult baby.
The "Got milk bib" is so hilarious and definitely lights up the humor of the outfit.
This baby costume will definitely make you win the most hilarious Halloween outfit this year.
You can add up anything to this outfit such as baby toys and even a feeder.
All these elements paired together will end up making you look like the funniest guy in the college and might impress some girls. 😉
Johnny Bravo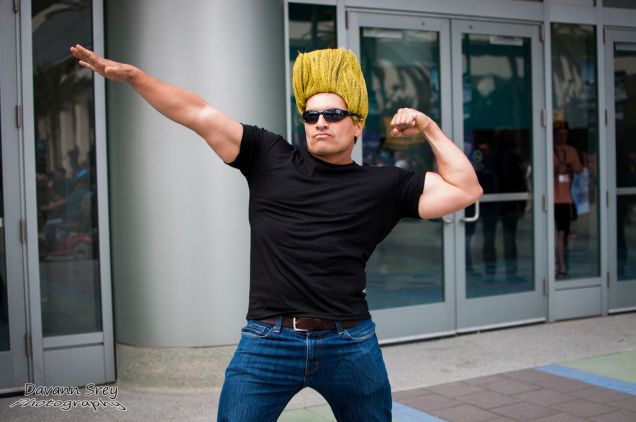 Johnny Bravo's cartoon character was a sensation among girls in the series. You will get a free pass to flirt with the girls at the Halloween party with this outfit.
The muscular Johnny Bravo with his yellow hair will definitely be a look and remind everyone of their childhood.
Johnny Bravo's costume is easy to recreate. You need a jet black T-shirt and jeans. The only thing that will make them look real is the yellow hair wig. You can either use hair spray or a wig for this costume.
Eggplant Emoji Outfit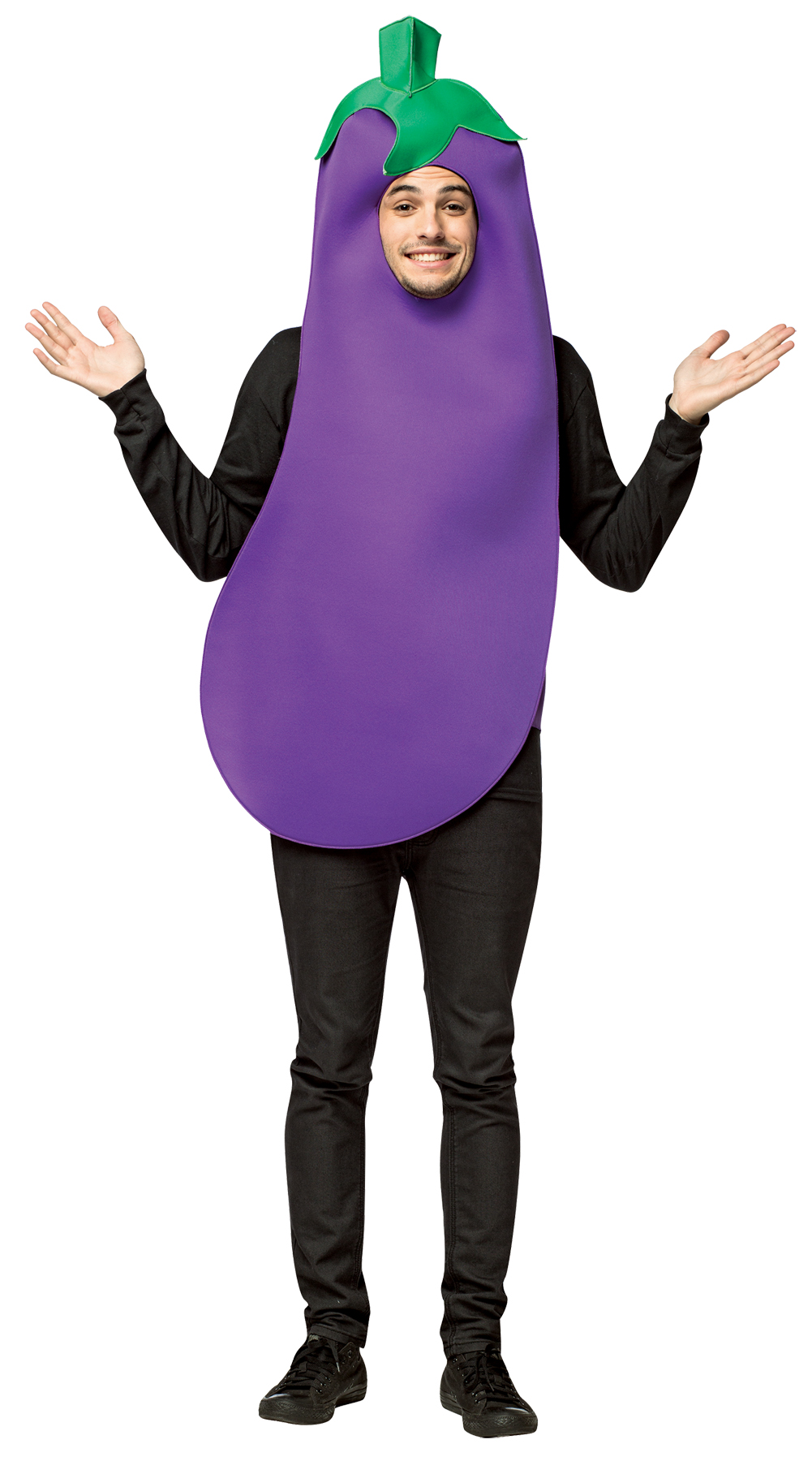 Want the simplest yet funniest outfit? Go for the eggplant emoji. It is effortless but quite hilarious.
Eggplant emoji has been a trend in the past years and this is the perfect time to use it as a costume.
Remind everyone how we all were obsessed with this emoji and used it for all the wrong reasons. 😉
You can go for any other emoji but this one will surely knock everyone dead.
SFX Iron Burn on Face
How creepy is this SFX look!!
If you love SFX makeup or have someone around you to do it for you then this look is surely worth trying.
Halloween costumes can be anything from creepy to funny. So, if you want a creepy look then try this one out.
You can dress the simplest, use this SFX look on your face and I am sure you will get everyone's attention at the party.
Grady Girls (Twin Sisters) from The Shining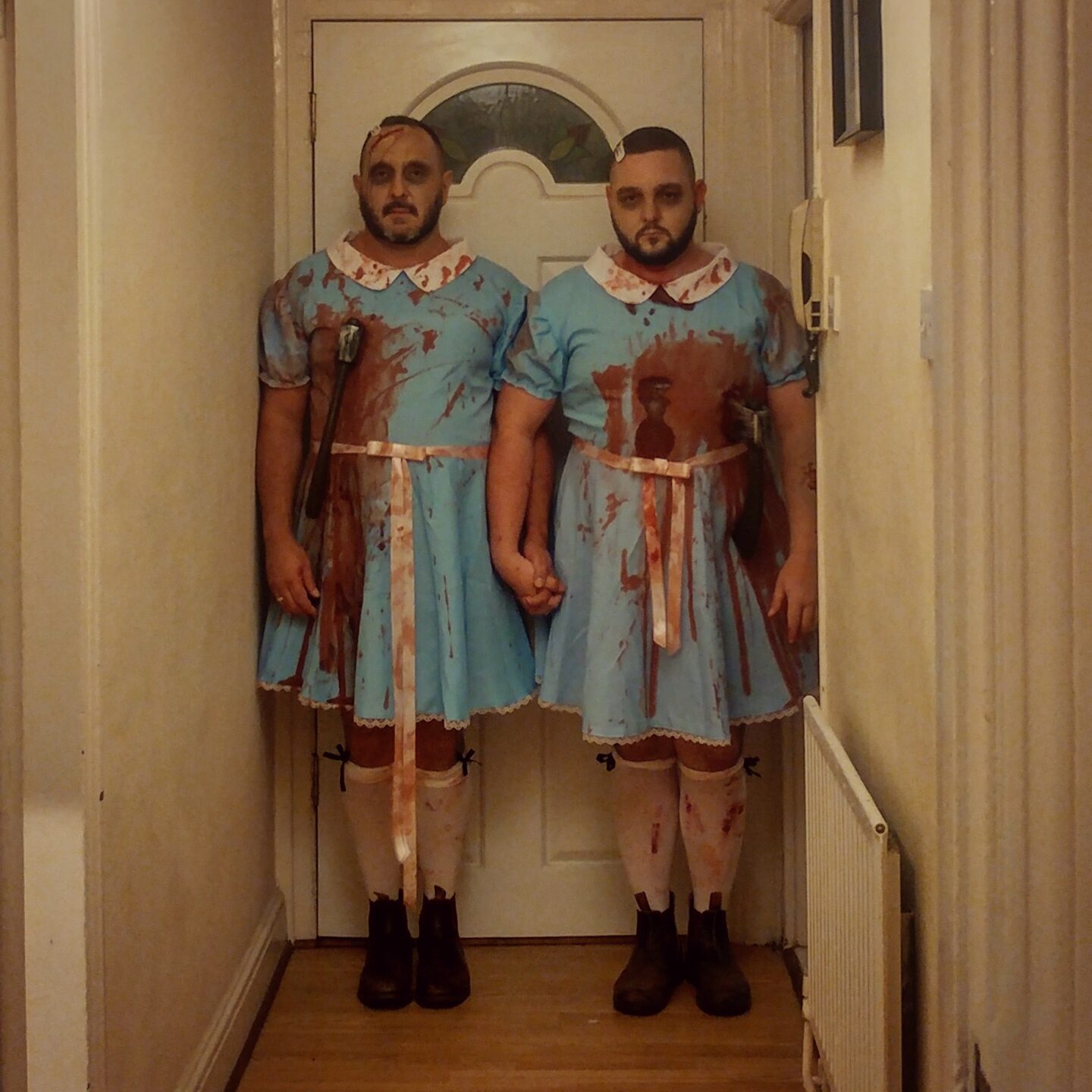 Something about this look is extremely creepy yet funny at the same time.
If your best friend and you have no idea how to dress this Halloween, then this costume is the best idea.
You will surely creep out everyone around you and some might even get a laugh from your costume.
Half Girl Half Guy Costume
Not sure if you will find this costume funny or creepy but I think this is the best and most creative costume.
This concept of dressing up both as a girl and a guy is spot on.
Don't have a girlfriend? No worries, you can be your own girlfriend.
If you want all the spotlight at the Halloween party, this costume will get you it 100%.
Eleven from Stranger Things
Everyone would think of dressing up as Steve from Stranger Things. But you should go all out and dress up as Eleven.
Eleven was the sensation of that show and you can be the sensation of the party.
This costume would look the cutest yet very creative. It will be easy to recreate but don't forget the Eggo Waffles that Eleven loved to munch on.
Eustace from Courage the Cowardly Dog
Remember the extremely rude and insensitive character from Courage the Cowardly Dog? Yes, Eustace, it is.
If you have a girlfriend, you guys can pull off a couple's look by dressing up as Eustace and Muriel. But if not, then you can simply dress up as Eustace.
Eustace was known for his rudeness with Courage so you throw sass and tantrums around in the party to make the character come to life.
Gru from Despicable Me
Who doesn't love minions and the evergreen Gru from Despicable Me?
Your friends can dress up as minions and you dress up as Gru to steal the spotlight of the party. The whole group's Halloween costume will take away everyone's attention.
The long nose of Gru will look so funny and I am certain that you will look the funniest at the party.
Don Corleone From The Godfather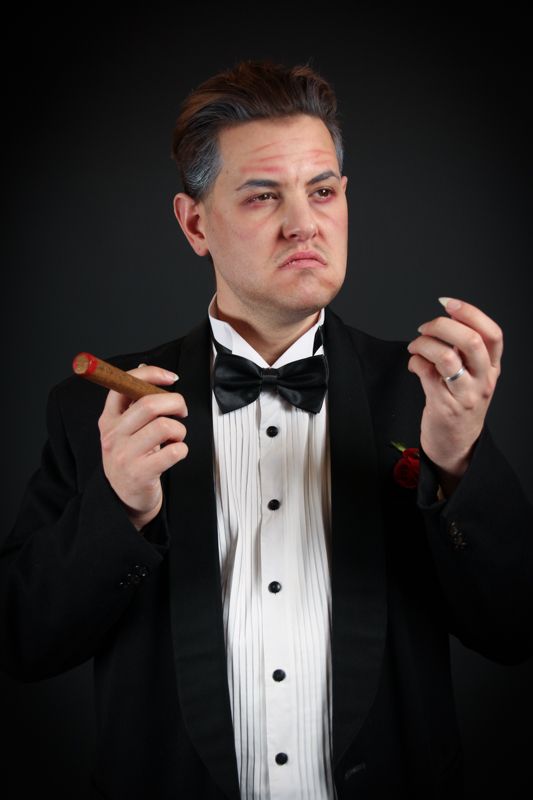 One of my favorite movie characters and probably one of the most classical characters is Don Corleone.
Make an appearance, bring past to the present and dress up as Don Corleone. You will look classy, sexy, and noteworthy in this costume.
Not only this, but this look is also easy to recreate. Just don't forget the cigar and don't forget to keep the grave look on your face.
I bet everyone will be willing to take pictures with you in this classic look.
In Closing…
You can dress up as anything you want as long as it makes you feel confident. Whether you choose a funny, creepy, or hot outfit, make sure to stand out.
The best way to stand out and gain everyone's attention is to not go with the trends. Famous characters of 2021 would be everyone's choice this Halloween. So, make sure your choice is not mainstream!!
Enjoyed this post? Make sure to check out these next:
17 College Halloween Costumes You'll Want To Steal