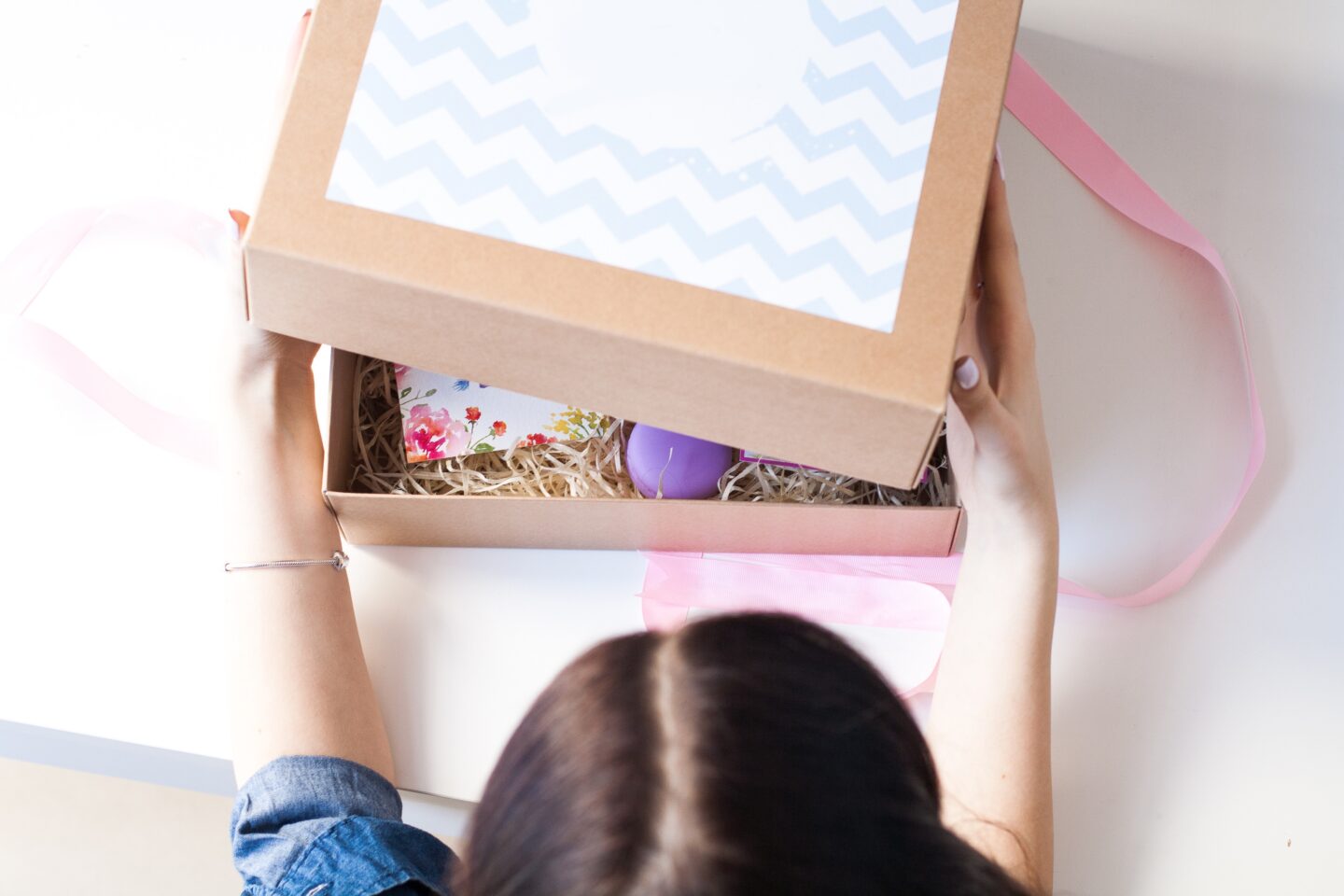 Finding the perfect college care package can be hard! What can you get a student that they need and don't already have?! Surprisingly, a LOT of goodies….
Going off to college isn't easy, and it does take a while to feel settled in and comfortable away from home.

However, the homesickness doesn't always go away completely, and some nights can be a little more difficult than others.
To help make these days or nights a little easier, you can put together a college care package suited to the special student.
Here are some items to include in the college care package, which will bring a smile to their face and make them feel a little more comfortable.
College Care Package Ideas
1. Homemade Treats
Nothing tastes better than mom's cooking, and if you know the college student needs some comfort food, you can bake up their favorite treats.

Cookies are a great idea as they travel well and tend to last a little longer than cake and other baked items.

If you don't want to bake your own treats, there are plenty of options for delicious cookies and brownies that taste homemade!

But if you do want to send over some home-baked goodies, I am personally a big fan of everything Betty Crocker. All the mixes are completely dummy-proof and SO yummy.
Purchase a good quality plastic container to send these treats in. They can then use the container in their dorm as well!
2. Quote Artwork
There are some stunning inspirational artworks available that can really bring some warmth and décor to a college dorm room.
These motivational artworks are always a hit, and they can be taken from a dorm room to their next apartment when they move.

I'm a big fan of minimalist decor, so I absolutely LOVE the line art. I feel like it ads a certain elegance to ANY room (even a tiny dorm).
3. Water Bottle
This might seem a little boring at first – but you cannot underestimate the importance of a good water bottle!
There are some great water bottles available that keep water cold for hours on end, and are reusable, which helps reduce waste!
With so many different colors and designs available, there is sure to be a water bottle to match their personality!

I always keep a water bottle on me at all times. It's one of those easy, healthy habits that anyone can (and should) adopt.
4. Homesick Candle
These homesick candles will give the student a little piece of home in their college room! There is a candle with a special scent for each of the 50 states.
If candles aren't allowed in their dorm, you could purchase a candle warmer for them to use instead.
5. Amazon Gift Card
College students will always love getting an Amazon gift card.

They probably aren't flush with money, and if given a gift card, they are able to buy themselves something special that they probably wouldn't have otherwise.
You really cannot go wrong with an Amazon gift card!
6. Hair Ties
A college student with longer hair will so appreciate some hair ties! Look for gentle hair ties that do not damage hair, and which don't leave kinks.
When at home, mom always seems to buy an endless supply of hair ties, but at college, this is something that many college students forget!
You can never have too many hair ties, and it is a great small addition to a care package.
7. Alarm Clock
Waking up for early morning classes can be difficult, so help the college student out a little bit by giving them a very useful alarm clock!
Choose an alarm clock that does more than just tell them time – look for one which can play music via Bluetooth or AUX cable, and even one which has a soft nightlight.

This will give some comfort during the late study sessions, and the evenings when falling asleep isn't so easy!
8. Microwavable Oatmeal
As a college student, skipping breakfast is all too easy! Get them eating a healthy breakfast by sending them some microwavable oatmeal. You can purchase a pack with different flavors if you aren't sure what they would prefer.
These are super easy to make in a rush in the mornings, and offer some good nutrition that will keep them going for the day!
9. Wireless Earbuds
Wireless earbuds make life so much easier, but are a luxury that most college students can't afford!
They can use the earbuds to listen to podcasts while walking to their next lecture, or to listen to music while working out – without the inconvenience of wires!
Make sure the earbuds come in a case that will keep them safe and protected while they aren't in use.
10. The Naked Roommate Book
The Naked Roommate is a book which will be entertaining, but so helpful for a college student!

The book is full of expert and student advice about all things college related, and what to expect – from relationships to roommates, classes, friends, dorm life, and everything in-between!
11. Socks
You know how kids make fun of grown-ups who gift socks?! I honestly don't understand why!

Am I the only one who geeks out a little bit over socks?

OKAY, maybe I am. But socks are essential and everyone needs them.

Since college students are now adults, they (should) actually appreciate getting socks.

You can never, ever have enough socks! Choose between some neutral colors, or socks with bright, funky prints.

My favorites are funky no-show socks who add a bit of spice to my wardrobe (even if no one can see it).
You can even throw in a mix of exercise socks, sleeping socks, and everyday socks!
12. Cold Care Packages
If it is nearing the time of year when colds and flu rear their heads, you should consider sending some cold care items.

This could include microwavable chicken soup packages, cough drops, Gatorade powder, chamomile tea, hand sanitizer, Kleenex, and decongestant.
This will also give you peace of mind that they have all they need to look after themselves when they get sick, especially being so far away from home.
13. Microwavable Popcorn Popper
Popcorn can be the best snack and comfort food, but it is not always easy to make if you don't have the right tools!

Send off a microwavable popcorn popper in the care package, along with popcorn kernels, so that the student can make popcorn whenever they feel like it!
14. Popcorn Spices

Along with the popcorn maker, you should send popcorn spices for them to use as well.

Purchase a variety pack so they can pick and choose the flavors they want, and have enough to last them quite a while!
15. Diffusers
Diffusers not only help to bring a beautiful scent to a room, but they make for subtle décor pieces as well.

Try to find a diffuser with a calming scent, to help them through study stress and homesickness. The soothing lights and humidifying properties really help to destress as well.
16. Face Mask
Face masks can give them a spa experience from the comfort of their dorm room. This is a small, but very appreciated item to include in the care package!
You can send them a gold face mask, which is the ultimate luxury a college student could hope for, but does not cost a huge amount either!

It's perfect pampering in a dorm room!
17. Sports Top
Not just any sports top though, this specific top is a COMPLETE DUPE of the Lululemon Align tank (which retails for $58).

This one from Amazon is half the price and (in my humble opinion) better.

It also comes in a bunch of fun colors, perfect for a yoga class or rocking it with high-waisted jeans for class.
18. Statement Earrings
If your college student is a fashionista and trendy type, she's sure to love a couple of statement earrings!

These bohemian earrings are absolutely gorgeous and perfect for a college care package.
19. Cute Mug
I always spend an embarrassing amount of time in the mugs section of Target.

And after talking with my girlfriends, I can guarantee, without a sliver of a doubt, that every girl does as well.

You can never go wrong with a cute mug, especially since college students are constantly drinking coffee (it's a problem).
20. Coffee Machine
Speaking of coffee…

I honestly don't know how I would make it through college without my very own coffee machine.

This single cup Keurig is amazing! It's so compact it fits anywhere and I get these…..
21. Keurig Pods (Specifically Starbucks)
Call me basic, but these Starbucks Keurig pods are SO good.

My favorites are the Vanilla and Cinnamon Dolce flavor, but honestly, they're all bomb.

The pods and the coffee machine are an amazing gift for any college student.
22. Steamer
This isn't a boring gift idea!

Okay, maybe a little.
But honestly, every girl in the world should own a steamer. There's nothing that looks quite as bad as going out in wrinkly clothes.

And taking an ironing board and iron to college is just SO inconvenient. Trust me, every student (male or female) will appreciate this gift idea.
23. Stickers
The first thing I noticed in college was how there were stickers EVERYWHERE.

On laptops, notebooks, dorm doors!

They're such a fun and cheap way to decorate your things and show a bit of your personality.
Don't forget to pin, like, and share all these college care package ideas with friends and family!