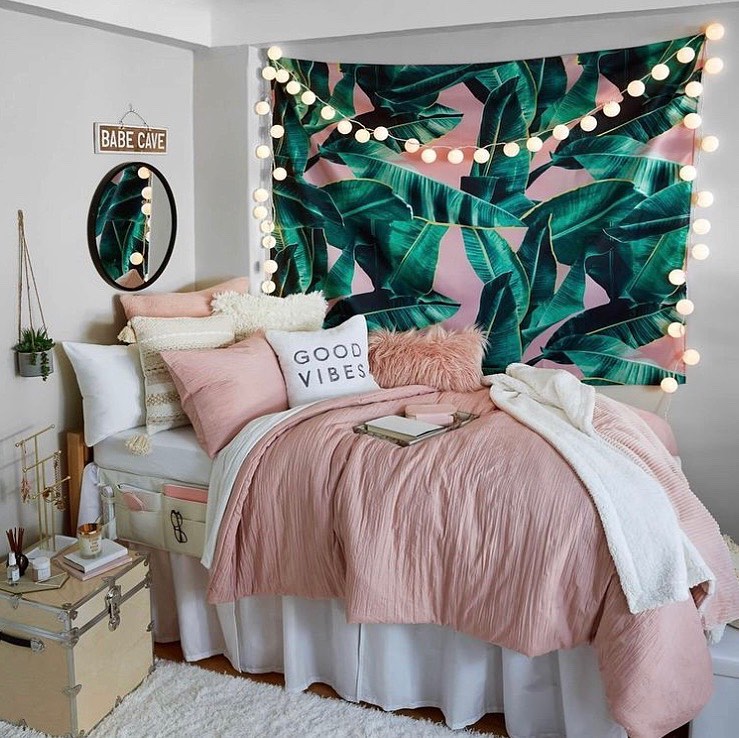 Featured Image: @tapestrygirls

This post is all about cheap tapestries that are the perfect accessory to any college dorm room!

Dorm rooms are naturally 'bleh.'

They simply lack personality and are very monotone. Even if you are only going to be in your dorm for a year, you should try to make it your own and add a little bit of your personality to your space.

That's where tapestries come in!

Tapestries are a fun way to add a pop of color to your space. And the best part is, they don't damage your walls as all you need is a couple of these damage-free hooks and you're set!

The best part is all these tapestries are super affordable! Most are under $15 so it's a very easy way to decorate your dorm room.
Make sure you don't forget your college dorm essentials as well before heading off to decorate your dorm!

Sun and Moon Tapestry
Such a coole tapestry that's perfect for your college dorm.
Absolutely love this one!
Trippy Galaxy Tapestry 
This tapestry is so trippy and cool!!
It would look amazing in your dorm room.

Blue Mandala Tapestry
This blue mandala tapestry is a classic and possibly the one you're most familiar with.

It comes in a variety of colors though, so if blue just isn't your thing, you're sure to find one that is!
Lotus Mandala Tapestry
A cute, feminine twist on a classic!

Love it!
Pink Mandala Tapestry
If you want something decorative, but more subtle, this could be the perfect tapestry for you!

Tropical Watercolor Tapestry
Bring some of the outdoors inside with this tropical tapestry that is sure to brighten up your entire dorm.

This one is one of my personal favorites!

Great Wave Japanese Tapestry
Add a pop of color and art to your room with this interpretation of the famous painting The Great Wave.

A must-have for art enthusiasts!

Landscape Tapestry
Ugh! If you're an outdoor lover like me, this will probably be one of your faves.

World Map Tapestry
Feed your wanderlust with this adorable tapestry that's a complete steal!

"Shit Could Be Worse" Tapestry
Casual, everyday reminder to keep your head up!

I especially love the bright colors of this one, it really livens up a room.

Skeleton Tapestry
For the edgier girls, this is perfect!

Cactus Tapestry
Cute and colorful!

A perfect pop of color to any dorm room!
Ocean Tapestry
I can stare at this one for hours!
Sunflower Tapestry
Raise your hand if sunflowers are your favorite? ?
Astronaut In A Field Of Sunflowers Tapestry
This one is just so ???

Sucha unique piece that is sure to get you many compliments
Girl Power Tapestry
Use your space to make a statement with this one!
Elephant Tapestry
As someone who has had an obsession with elephants since I was a child, this tapestry is just perfect! ?
Realistic Elephant Tapestry
Or, if you're into a more realistic piece, why not give this one a go?
Marble Tapestry
Marble is all the rage!

Hop on the trend with this tapestry that just screams 'classy'

Buddha Tapestry
Outer Space Tapestry
Planets Under Water
Moon And Star Tapestry
Tropical With Pink Backdrop

The Rolling Stones Tapestry
Astronaut Tapestry
Tree of Life Tapestry
Which one of these tapestries do you love for your dorm room?


Pin, Like, And Share Me!