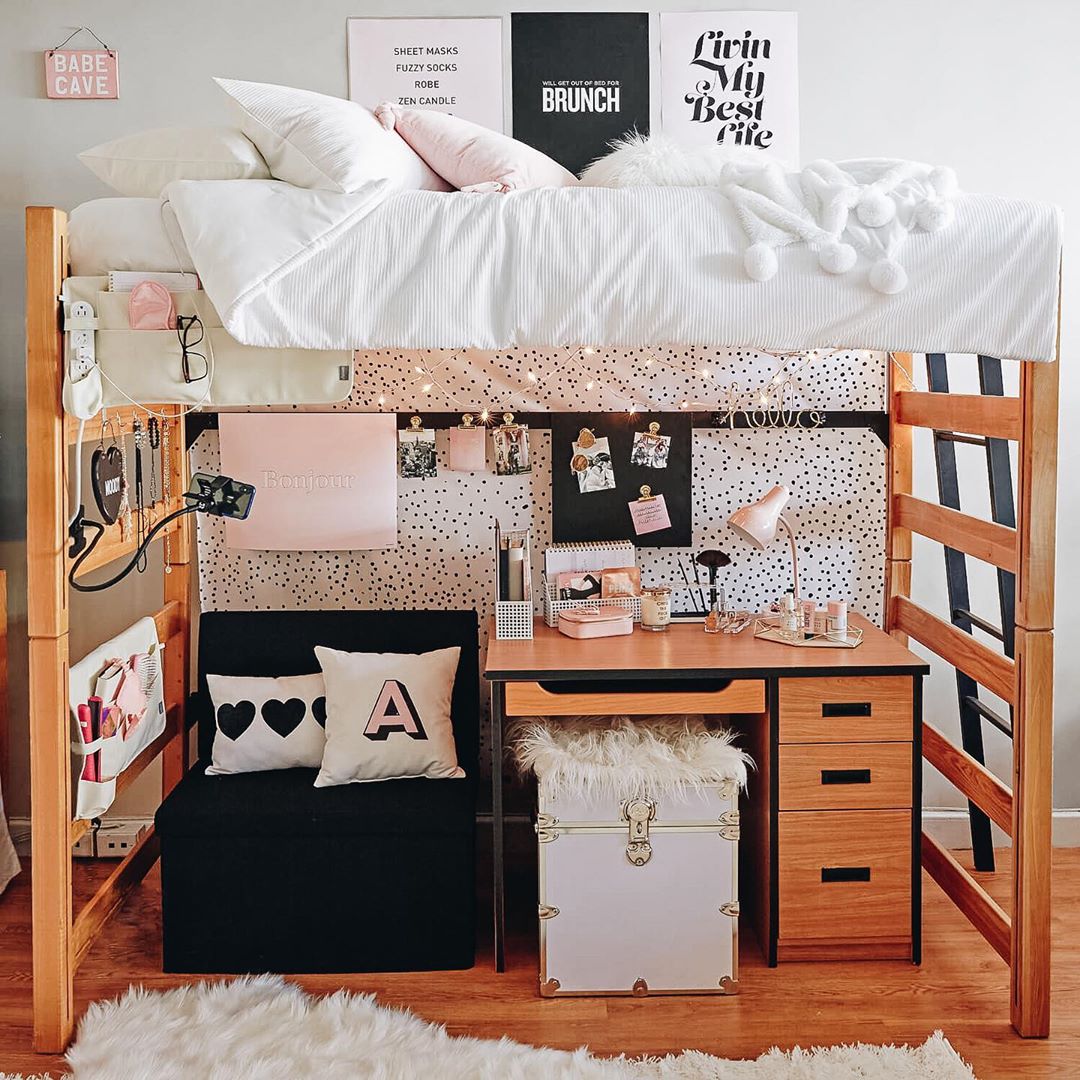 Featured Image: @dormify
This post is all about college dorm essentials and must-haves for your freshman year!
I remember when I went away to college. I was SO stressed out.
Somehow, I managed to both over AND under-pack. I brought a bunch of things I never touched and forgot some absolute dorm essentials!
I have compiled a list of the products I used on a regular basis! The ones that seem obvious, yet we somehow forget; and the ones you wouldn't even think to pack, but you'll be glad you did.
COLLEGE DORM ESSENTIALS

MEMORY FOAM TOPPER FOR YOUR MATTRESS
You'd think with how expensive college is, they'd have a Serta or Tempur-Pedic mattress for all student, but in reality, you'll probably get something that resembles a stale piece of bread.

That's why a memory foam mattress topper is absolutely mandatory if you aren't dishing out the big bucks for your own mattress.

I love this one from Amazon, as it's an affordable way to get a 'new' mattress, but you can find good ones at target too.
MATTRESS PROTECTOR SHEET
This is MANDATORY!! Just thinking of all the things your mattress went through is disgusting.
I put this directly over my mattress, then the mattress pad on top, and lastly put the regular bed sheets.
Perhaps you're not such a huge germ freak like me, but these sheets are great for protecting you against dust mites and bacteria.
LIGHTWEIGHT AND BAGLESS VACUUM
This vacuum is incredibly inexpensive and you'll be using it so often! I can't stress enough how important it is.

There's a lot of expensive, top-of-the-line models out there, but for college dorm essentials, you really don't have to spend much.
STANDARD FAN
You'd be surprised as to how many dorm rooms don't have AC!

I moved in thinking it was standard, but boy was I wrong.

Depending on where your college is, you might want to get a little fan, especially as it tends to get hot at night.
A SHOWER CADDY
Most dorms have large bathrooms for the entire hall, so you'll want to have a caddy to keep all your shower goodies in one place.

I forgot this one and spent the first week in college lugging around my goods in a plastic bag (that never seemed to dry!)
TOWEL WRAP
You don't have to walk down the hall in your wrap, but it sure was nice to have while I got ready in the mornings.

I don't like to get dressed immediately after showering, as I apply lotions and creams, so having this wrap was ahhh-mazing as I could never get my towel to hold on.

Another alternative is a bathrobe, but bathrobes give me a bit of a grandma vibe (no judgement if you're a bathrobe type, do you girl!)
ULTRA SOFT BLANKET
I love getting cozy and this is the softest blanket ever!!

I loved it so much, I would even take it back home with me when I visited my family.

It comes in a variety of colors, so I'm sure you'll find one you love.
THROW PILLOWS
Alright, these aren't technically essentials, but I am such a visual person that I have to live in an aesthetically pleasing place.

I would not be happy if my dorm looked like it could be the setting of a prison cell.

If you're looking for how to make a dorm room feel like home, these are a great start!
HANGERS
I recommend you get velvet hangers over the plastic ones as they are leaner and help maximize your (small) closet.

They're also 1) cuter than regular hangers and 2) help keep your clothes from falling off! Win-Win
HANGING SHELF CLOSET ORGANIZER
My dorm closet was tinnnnny, it barely fit 3 pairs of shoes, so you really have to find ways to maximize space.

Hanging shelves are an absolute necessity if you aren't a minimalist and have the teeny tiny closets most dorms provide.
DESK ORGANIZER
I'm not the most organized person in the world, but I have a slight obsession with keeping my desk tidy.

It just bothers me having to spend 15 minutes looking for a post-it or my favorite pen.

Also, they come in so many styles and colors, you're sure to find one you love.

STORAGE CUBES
On the same topic of maximizing space, you'll want to have a couple of storage bins so your stuff isn't all over the place (and annoying your roommate).

They come in many different colors and designs, so you can have fun making it your own.
VANITY MIRROR
When I tried doing my makeup in the dorm lighting, I walked out looking like a clown. The lighting was so bad, my neck and face looked completely different.

Obviously, you want to do your makeup in natural light, but this vanity mirror is your second best option, especially since my dorm came with zero mirrors.
OUTLETS
Dorms typically have few outlets, and more often that not, are in completely inconvenient locations.

I bought two extension cords for all the lamps, laptops, and cellphones that needed a spot. These are a lifesaver and help you be more mobile, as you're not stuck to one corner of the room where all the outlets are located.
A SLEEP MASK
The chances of you and your roommates having the same internal clock are slim to none. 

Whether your roommate likes to study in her dorm or goes to bed every day at 3am watching Netflix, you'll want to have a sleep mask handy to block out the light.

i personally have to sleep it pitch black darkness or I can't fall asleep, so these are an absolute lifesavers.
These are the dorm room essentials you don't want to forget! I used every single thing on this list (and the throw pillows just make me happy) and they really simplified my life greatly!
What are you taking to college that you can't live without?



Don't Forget To Pin, Like, and Share!